Early Action Deadline:
March 18, 2019
Priority Deadline:
March 31, 2019
Final Deadline:
April 14, 2019
Class Start Date:
May 22, 2019
In today's business world, a rapid rise in the availability of data has dramatically altered the ways in which organizational decisions are being made. This has led to a sharp increase in the need for people trained in understanding and implementing data-driven decision making for business.
Gain the skills you need to harness the power of big data. Using real-world tested methodologies and the latest innovations in software to visualize, analyze, and interpret data, you will develop an understanding of the ways in which data can impact organizations at every level. The MSBA degree prepares students to reveal the stories data are telling, and teaches them how to share actionable insights across every area of business.
Businesses keep growing, and the field of business analytics is demanding increased expertise to extract and utilize this expanding 21st century resource. Learn how to understand the power of data in making strategic decisions, and how to share the stories told by data within your organization. The Online MSBA at Wake Forest equips working professionals with the skills they need to maximize their mastery of business analytics and propel their careers to the next level.
Leveraging advances in applied statistics, management sciences, and business domain knowledge, Wake Forest's Online MSBA prepares graduates to examine data to see the bigger picture, help businesses solve problems, and make an impact on their world.
The Online MSBA program is seeking bold professionals with competence in quantitative analysis and from a multitude of industries to transform the way companies make decisions, tell their stories, and build strategies for change.
The program's curriculum has been designed by faculty, in partnership with industry-leading corporate partners, to ensure that students graduate with skills that are in demand in the marketplace. The program's online format and resources allow professionals to pursue new skills and career paths while continuing to work in their current jobs, providing a flexible and efficient path to earning an advanced degree.
The Wake Forest Way
Want to know more about what it means to be part of the Wake Forest family? Hear Online MSBA students and faculty discuss the ways in which we maintain our high-touch instruction and support students to ensure positive career outcomes.
Rigorous instruction
Real-world projects
Deacon Weekend
Peer-to-peer collaboration
Direct access to faculty
Student support
Market-driven curriculum
Excellent job placement record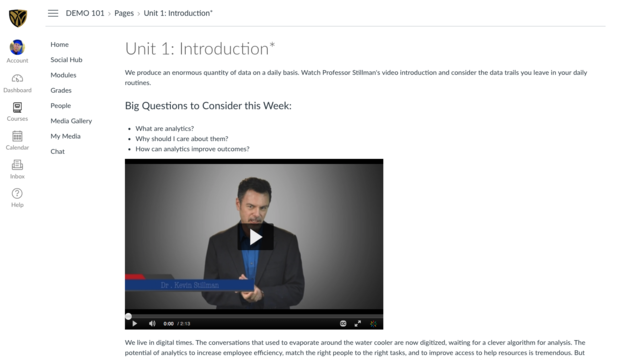 Rigorous and Relevant Curriculum
The MSBA online program offers a unique 24-month (36-credit) experience that blends Applied Statistics, Management Science and Business Domain knowledge, all with the goal of creating future leaders who use data to solve the challenges of business.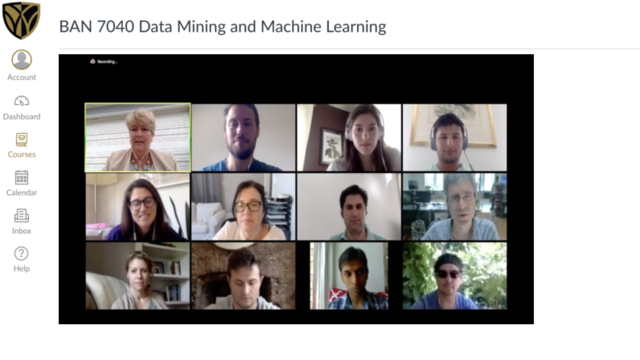 Live Class Sessions
Students in the program will attend live, synchronous classes where they will engage with their faculty and classmates. Faculty and students will meet face-to-face via webcam in our virtual classroom environment for 90-minutes, each week of an academic term, providing students the opportunity to reinforce coursework materials, apply academic concepts, and participate in focused discussions with faculty and colleagues.
Deacon Weekend
Towards the end of their first semester in the Online MSBA program, students attend Deacon Weekend, a two-day, in-person immersion on our Winston-Salem, North Carolina campus. Students meet their classmates in person, often for the first time, and get the chance to take a live class with faculty, meet their Student Success Coach, and immerse themselves in the larger Wake Forest University campus community.
Graduates will be proficient in descriptive, predictive, and prescriptive analytics

Graduates will be able to identify opportunities to improve their organizations with analytics

Graduates will be able to provide thought leadership on aligning the right tools and methodologies to solve business problems

Graduates will be able to confidently articulate and advocate for, the value proposition of data-driven decision making within their organization
Curriculum
We invite you to review the online MSBA course details.
Our online Masters in Business Analytics program maintains the same curriculum standards, rigor, and prestige of our full-time, on-campus offering for recent college graduates.